Hello everyone! Finally, it's 2010! Today's the first day of the year! A new year, a new beginning! Before I proceed, I'll share to you this: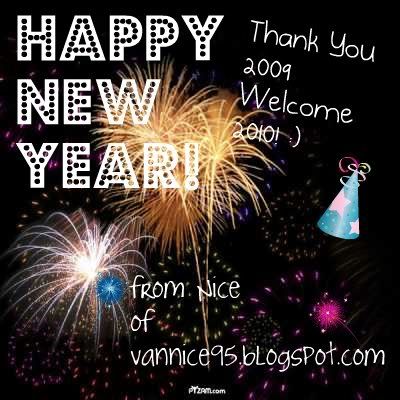 Code:
I hope you could grab this!
Well, lets proceed!
Last night, while waiting for the midnight to come, we partied at our neighbors'/relatives' house! There were lots of games, dance presentations, and a lot more! I also joined the games but I purposely let the others win, since they really need to win, and they are less fortunate than us. Many greeted me a happy new year, both in text message and Facebook chat! While I was trying to reply to their messages (in text), it took a while for me to do it since sending kept on failing due to traffic. After a while, I could finally send text messages! I was a little frustrated when my cellphone kept on saying, "Message Sending Failed". I thought my balance had ran out already or the signal had been lost, but it's just because of all the traffic that many people, in the Philippines, are already sending a lot of sms, or even mms! I also thought that my cellphone is not working well. And you know what that means? I should have gotten a new cellphone...hahahah..xDD

I slept very late! I had slept at around 2am already, and woke up 11 in the morning! I had texted a lot of classmates and teachers! We ate a lot of food! I was so tired! We saw the majestic full moon! We watched the fireworks, and jumped up high with joy. I was happy to know that many are still awake at midnight, and we could still text each other!

The following morning, it was all back to normal. Some had still greeted each other a happy new year! Oh, I like seeing my cellphone clock with the date 01-01-2010! We are now having a new beginning! I thank 2009, and I welcome 2010! I had been through a lot in 2009, which had taught me a lot of things and lessons! I hope it would also be the same for 2010! I wish that there would now be less calamities in the world, the politicians would stop being corrupt, and that we could live peaceful and orderly. For my own wish, I wish to keep striving for my success in what I do, just like in studying, or other school-related stuffs, and I also wish to fulfill my new year's resolutions! I hope that I would not get irritated anymore with my mother telling me to do some chores. I wish also that I would not give much attention to unimportant things, like
love
[(between the opposite sex) not in the family] and all that. I would try not to believe in anyone who says that they like or have a crush on me! I think that they are just fooling me, well, I just think they are. If I do believe them, I may just be fooled. Just like my classmate, we had a chat in Facebook, and he kept on asking me that do I have a crush on him or not, and I also kept on saying NO. When I asked him who his crush is, I was shocked when he told me that I am his crush! I replied, "Ahw! Okii.. :D", and "tnx..(if it's true..haha)". He asked me once again, who my crush is. Then I said I really don't have one, and I just said instead that I am just liking everyone of you, and that includes him. I said that instead so as not to hurt his feelings..hahaha..xDD I kept on wondering about it now! :(( And I'm trying to get it out of my head. I think it's so cheesy..LOL
All that matters is that I had a great start for the new year! Everything is going well now! I wasn't irritated anymore with my mother telling me to do chores! I am less ill-tempered! I beginning to be serious in studying for my Intermediate Algebra, which reminds me, that I should already double-time on studying it! I already understood many topics there, and I think that there are now a few more, or I also think there are still many, that I should study. My teacher is depending on us to win! Oh, and another thing,
that
classmate of mine is also one of the participants of that contest! ahahhaha.. ! Along also with my friend, who is also very smart..! There are still 2 more weeks to go, but I think that is already a short time for me to study, because as you can see, algebra books are thick, with many pages! And I have to study ALL topics! I'm happy with it, and no, I'm not being sarcastic about saying that! I am happy because I could already know those other algebra topics before my other classmates would learn about it! I also want to make my teacher, and our school, proud!
Well, that's it for now! I hope you could start this new year well! Be lucky! God bless and take care always! Thanks for reading! :)
EDIT:
Thank you so much to sis
Jasmine
and sis
Jhelz
for their gifts! Here they are:
Thanks for reading! :D I may edit this again if I saw more gifts while blogwalking! :)